Essential management tool provides practical advice to reduce steroid doses in asthma
Cambridge UK: Monday 4th July 2016 – A new algorithm containing detailed practical advice to assist time-poor primary healthcare professionals in 'stepping down' their patients' asthma medication was launched today by Napp Pharmaceuticals Limited in partnership with MGP, and the multi-channel publication Guidelines.1
Over 90% of GPs recently surveyed by Napp and MGP said time available in consultations was the main barrier to effective asthma management.2 The algorithm aims to assist clinical practice by providing practical and straightforward guidance on when and how to step down asthma treatment.1
The original BTS/SIGN guideline recommends stepping down asthma treatment when patients have been well controlled for at least 3 months and to reduce the inhaled corticosteroid (ICS) dose by 25–50% each time, but does not provide detailed practical advice on how best to do this.3
Dr James Chalmers, Consultant Respiratory Physician and Senior Clinical Lecturer, University of Dundee, contributing author of the algorithm explained: "The BTS guidelines are incredibly helpful but we felt there was a gap on detailed guidance on how to step down medication when patients' asthma is controlled. The algorithm provides clear steps to help healthcare professionals step down their patients' treatment while continuing to ensure they provide good quality asthma care."
He added, "Most people want to be on the lowest dose of any medication to reduce their treatment burden. We should explain to them that while there is a risk of symptoms worsening, in my experience this only happens for about 1 in 10 patients where step down is appropriate, and the degree of worsening is usually mild."
Step down is important, as extensive exposure to high doses of ICSs is associated with potential harmful side-effects such as: glaucoma, cataracts, anxiety, depression, sleep disturbance, skin thinning and bruising, thrush, throat irritation and reduced bone density.4 A recent survey by Asthma UK showed that over 60% of asthma patients reported feeling concerned about the long-term effects of ICS treatment.5
Asthma poses a long-term burden for the NHS in the UK, affecting one in every 11 people and costing the NHS more than 1.1 billion every year in hospitalisations, drug costs and GP visits.6
A patient's asthma is considered under control when they experience no daytime symptoms or exacerbations, no night-time awakening due to asthma or need for rescue medications and are able to exercise without limitations.1 Control can be measured objectively by using the Royal College of Physicians three questions test or the Asthma Control Test.7-8
Deirdre Siddaway, Respiratory Nurse Specialist said: "Having algorithms for the management of asthma is really helpful and I think they are invaluable, particularly for colleagues who don't have as much experience in stepping down. Many of my colleagues in primary care, doctors and nurses, do sometimes avoid stepping down asthma treatment and this is because they may not be clear about how it is they should tackle it."
She continued, "I think the algorithm describes very clearly not just which inhaled steroid to use and how to reduce dosage but also describes how and when to, or not to step down patients, which is an area previous guidelines haven't addressed. I hope that the guideline will encourage more healthcare professionals to reduce the dose of ICS to make sure that our asthma patients are not receiving more inhaled steroid than they need."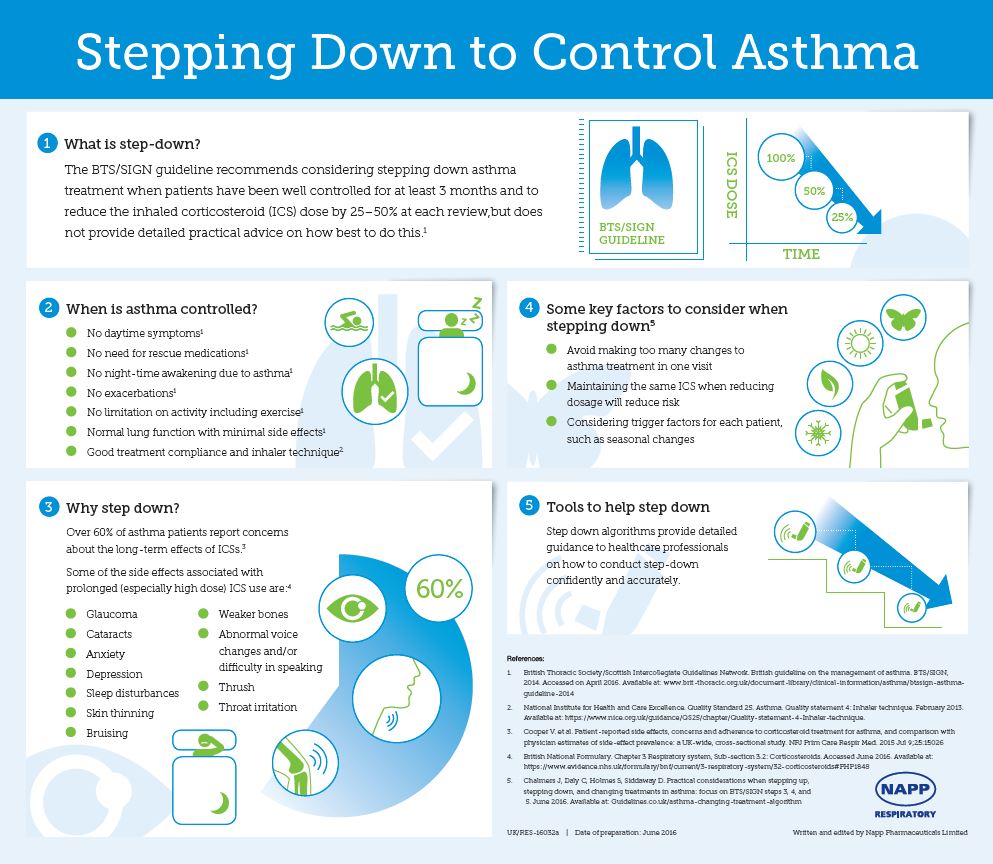 Notes to editors:
The algorithm was created by a multidisciplinary expert group: Dr James Chalmers, Consultant Respiratory Physician and Senior Clinical Lecturer, University of Dundee, Chair and Cathal Daly, Practice Prescribing Adviser, Elmham Clinical Services, Norfolk, Deirdre Siddaway, Respiratory Nurse Specialist, Ixworth Surgery, Suffolk and Dr Steve Holmes GP, Park Medical Practice, Shepton Mallet and was commissioned by Napp Pharmaceuticals Limited.
It is available at: Guidelines.co.uk/asthma-changing-treatment-algorithm
About Napp Pharmaceuticals Limited
Napp Pharmaceuticals Limited is a privately owned UK organisation based in the heart of the Cambridge science community, and part of a worldwide network of independent associated companies across 48 countries. Napp has grown up with the NHS, providing innovative medicines to patients in the UK since the 1920s. Napp is committed to improving patient outcomes and ensuring the sustainability of healthcare. At Napp, we are proud of our heritage, which began in the treatment of chronic pain and has expanded into respiratory medicine, oncology and inflammatory disorders.
About MGP
MGP has been promoting best practice in healthcare for over 20 years. We are a multi-media medical publishing company with established and strong working relationships with the key guidance bodies: NICE, SIGN, and independent professional bodies. By working in collaboration we provide educational resources that are approved to meet their standards.
For more information, please visit https://www.mgp.co.uk.
References
Chalmers J, Daly C, Holmes S, Siddaway D. Practical considerations when stepping up, stepping down, and changing treatments in asthma: focus on BTS/SIGN steps 3, 4, and 5. June 2016. Available at: Guidelines.co.uk/asthma-changing-treatment-algorithm. Accessed June 2016.
Data on file. MGP Asthma Management Survey. 2016
British Thoracic Society/Scottish Intercollegiate Guidelines Network. British guidelines on the management of asthma. BTS, SIGN, 2014. Available at: https://www.britthoracic. org.uk/document-library/clinical-information/asthma/btssign-asthma-guideline-2014. Accessed June 2016.
British National Formulary. Chapter 3 Respiratory system, Sub-section 3.2: Corticosteroids. Accessed May 2016. Available at: https://www.evidence.nhs.uk/formulary/bnf/current/3-respiratory-system/32-corticosteroids#PHP1848. Accessed June 2016.
Cooper V. et al. Patient-reported side effects, concerns and adherence to corticosteroid treatment for asthma, and comparison with physician estimates of side-effect prevalence: a UK-wide, cross-sectional study. NPJ Prim Care Respir Med. 2015 Jul 9;25:15026.
Asthma UK. Time to take action on asthma. 2014. Available at: https://www.asthma.org.uk/globalassets/campaigns/compare-your-care-2014.pdf. Accessed June 2016.
Pinnock H, Burton C, Campbell S et al. Clinical implications of the Royal College of Physicians three questions in routine asthma care: a real-life validation study. Prim Care Respir J 2012; 21: 288-94. Available at: http://www.nature.com/articles/pcrj201252. Accessed June 2016.
Nathan RA, Sorkness CA, Kosinski M, et al. Development of the asthma control test: a survey for assessing asthma control. J Allergy Clin Immunol 2004;113:59-65.
June 2016   UK/RES-16032